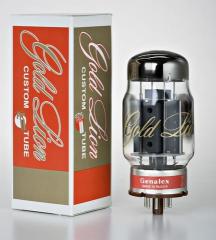 SKU: KT88 Matched Pair Genalex Gold Lion
KT88 Matched Pair Genalex Gold Lion:
For those of you who are stuck on a name Genalex was the biggest name when it came to KT88's Now made in Russia to the exact specifications of the original they are again available to the joy of the most annoying audiophiles who claim to know it all.(only kidding we love audiophiles) In 1957 Marconi-Osram Valve Co. (Genalex) introduced the "King of Power Tubes", the legendary Gold Lion KT88. This tube became the heart and soul of such classics as the Dynaco Mark III, McIntosh MC275, and Marshall Major. Unfortunately, Genalex ceased tube production in the early 1980s and the Genalex Gold Lion KT88 has become very expensive and hard to find.
After extensive research and engineering, the folks at Sovtek have reissued the famed Genalex Gold Lion KT88 ( yes made in Russia). This tube has been recreated down to the finest detail with gold plated grid wire, carbonized screen grids, and a tri-alloy clad plate structure for exceptional performance and sound quality