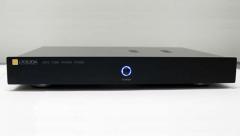 SKU: Tape out option
Call for price before ordering
Price includes freight (Domestic USA locations only not good for Hi or Alaska ) do not select any shipping method when ordering . All Jolida units are shipped via Fedex ground with signature required upon receipt. .Not sure about this model? Have questions? Email us and we'll be glad to consult you or address your concerns, info@newtube.com

Sales Policy : All sales are final no returns accepted.If any Jolida shipment is refused and or returned for any reason including a possible defect and no defect is found a 25% restocking fee will be imposed additionally customer will be responsible for all shipping charges to and from the shipping point.By placing an order you are accepting these terms.
Note: Available in Black and Silver, Please indicate color choice in "notes" if you place an order
Frequency Response: 5Hz to 110KHz, (+/- 1 dB)
SNR: > 100 dB
Distortion THD: Less than .01%
Input Impedance: 100Kohms
Output Impedance: 600 ohms
Phono Stage:
MM: 60 dB, 5 mV
MC High: 75 dB, 0.5 mV – 1.5 mV
MC Low: 85 dB, 0.25 mV – 0.5 mV
Input Resistance: 100 ohm, 300 Ohm, 1Kohm, 47Kohm
Input Capacitance 47 PF, 100PF, 150PF, 220PF
Tube Complement: 2 pcs. 12AX7
Size: 17 in. (W) x 13 in. (D) x 2 in. (H)
Weight: 10 lbs., 14 lbs. Boxed
Warranty: One year parts and labor, 3 months on tubes
Construction Details and Features:
o Phono pre-amplifier that will handle MM, MC and Dynamic head cartridges.
o Lowest Rated sensitivity at .25 mV – 85 dB.
o Low noise -57 dB
o Two Outputs RIAA, Line stage.
o Adjustable settings for cartridge type
o State of the Art Components: Gold plated RCA input
jacks.
o R Transformer and Heavy duty Voltage Regulator
o Low profile full body allows the unit to act as a base for your amplifier or turntable.
No need to lose another shelf for a component.
o Tube Output